Experience world-class mountain biking and hiking trails in the rugged Sierra Cacachilas mountains of Baja California Sur.
Welcome to a network of over 60 kilometers of private trails for mountain biking, hiking, trail-running and mule riding trips. An extensive network of new trails is under development in our multi-year master trail plan. These trails have quickly become a favorite in the Greater La Paz region of Mexico's Baja California Sur.
Mountain Biking at Rancho Cacachilas
Rated some of the best mountain biking trails in Baja, these trails range from intermediate to advanced singletrack riding; whether you're ready to test your skills on exhilarating descents, or take in the mountain views of the nearby Sea of Cortez at a comfortable pace, we've got the trails for you!

All our private trails are well marked with signs indicating their use for hiking, mule riding, or mountain biking. There are 11 trails designed with the mountain biker in mind and over 40 kilometers of prime singletrack open for riding. All trails are built to IMBA (International Mountain Bike Association) standards. Choose from day trips or multi-day secret singletrack mountain bike tours at Rancho Cacachilas. Whether you call it "Blamping" where the thrill of mountain biking combines with glamping (glamorous camping), or just an incredible Baja mountain biking guest ranch vacation, you'll enjoy fantastic riding, gourmet farm-to-table cuisine, artisan cheeses paired with local wines, and dark starry nights.
Bike Shop & Rentals
The Rancho Cacachilas Mountain & Bike Hub is our complete mountain bike store with rentals, sales and mechanics in the laid-back beach town of El Sargento, right on the Ventana Bay of the Sea of Cortez. It's only a 30 minute drive from the Rancho Cacachilas complex and provides guided access to our well-groomed trails. This is the main entry point to Rancho Cacachilas for day tours.
Mountain & Bike Hub Pump TracK
Learn or brush up on your technical riding skills! This super fun short mountain bike track is right next to the Bike Shop in El Sargento. It's a pump track that caters to all mountain biking skill levels, from beginners to experts. Bring your own bike or rent one of ours. This is also a popular venue for private parties. One week minimum advanced reservations required, catered food and beverages available. Open daily from 8AM - 4PM, October 1 - May 31.
Children under the age of twelve need adult supervision.
Hiking at Rancho Cacachilas
Hikers and trail runners absolutely love the exhilarating Baja California Sur trails interlacing Rancho Cacachilas. All the trails at the ranch are open to hikers and runners, and signs indicate which trails are for mule riding and mountain biking.
The views of the surrounding Sierra Cacachilas mountains sweep dramatically down to the dazzling Sea of Cortez. The emerald Cardon cactus forests are regal and hundreds of years old. Imagine the stories they could tell! Birdwatching, mining heritage exploration, natural history, trail running, stargazing, watershed management education and many more experiences await you on the trails here.
Multi-purpose Trails at Rancho Cacachilas
This is an easy to intermediate hike of 4 kilometers that takes you from our Chivato Ranch to our Dos Hermanos Ranch. Along the way, there are lovely views of La Ventana Bay, Cerralvo Island, and Sierra de la Laguna, the highest peak in the state of Baja California Sur. The biking portion of this trail starts in the middle of the mountain and leads down to Dos Hermanos.
Trail Rating: Beginner to Intermediate
This is a fantastic intermediate to advanced 2 kilometer trail that connects the Middle Mountain trail leading you to Dos Hermanos. It can also link you to El Guante to connect you to Santa Rosa and Canoas. This trail descends from the mountain top offering majestic views all around. You will find yourself immersed deep into the oasis that is El Salto, full of palm trees and lush vegetation. You will hardly believe that you are riding in Baja California Sur!
Trail Rating: Intermediate to Advanced
This mountain biking trail — the pride of Rancho Cacachilas — was designed by IMBA (International Mountain Biking Association) and built by our carefully trained crew. The result is an impressive 9.1 kilometer, singletrack trail that winds its way through the mountains, passing large boulders and an oasis with palm trees. Feel the adrenaline as you descend serpent switchbacks and reward yourself with spectacular views of the mountains and sea. This is for riders with solid technical skills to navigate the challenging terrain. Of course, it also makes for a beautiful hike.
Trail Rating: Advanced
This trail network is perched on a mountain overlook that offers 3 different beginners loops. Palo Blanco is a 2.5 kilometer loop that follows the perimeter of the plateau. Monte Cristo is an easy 2.3 kilometer ride on flat land with a few corners that will help you hone in on your skills. Monte Cristo loops around on the inside of Palo Blanco. The final loop is Lomboy, a meandrous 2.7 kilometers of fun that is the perfect cornering experience. Combine all three of these loops using the 2 kilometer connector road to complete the Monte Cristo Plateau!
Trail Rating: Beginner
MORE INFORMATION COMING SOON
La Palmillosa is an extension of the Santa Rosa Trail. This single track trail of 8.2 kilometers takes you to the top of la Reina, an old mining shaft. From there you can descend into Chucillos Pintados, an old mining trail rebuilt to IMBA standards. This intermediate trail loops back around to the Santa Rosa Trail where you can decide your next move. You can either keep riding into Canoas or head back to camp.
Trail Rating: Intermediate
MORE INFORMATION COMING SOON
This technical descent of 886 meters loops you back to Chivato`s Adventure Resort & Camp. When riding out of Chivato take La Trinidad Trail and connect to La Cruz for a fun ride back to camp. To extend your ride take our beginners trail, El Garambullo, and continue to make as many loops as you would like in either direction.
Trail Rating: Advanced
MORE INFORMATION COMING SOON
La Trinidad is named after an old mine shaft. This intermediate trail of 2.7 kilometers departs from the dirt road at the back side of Chivato and connects with The Middle Mountain Trail and El Salto. This scenic trail brings the wow factor with its views of the surrounding mountains. The Resort Camp also has some rock challenges to test your skills on and several view points.
Trail Rating: Intermediate
MORE INFORMATION COMING SOON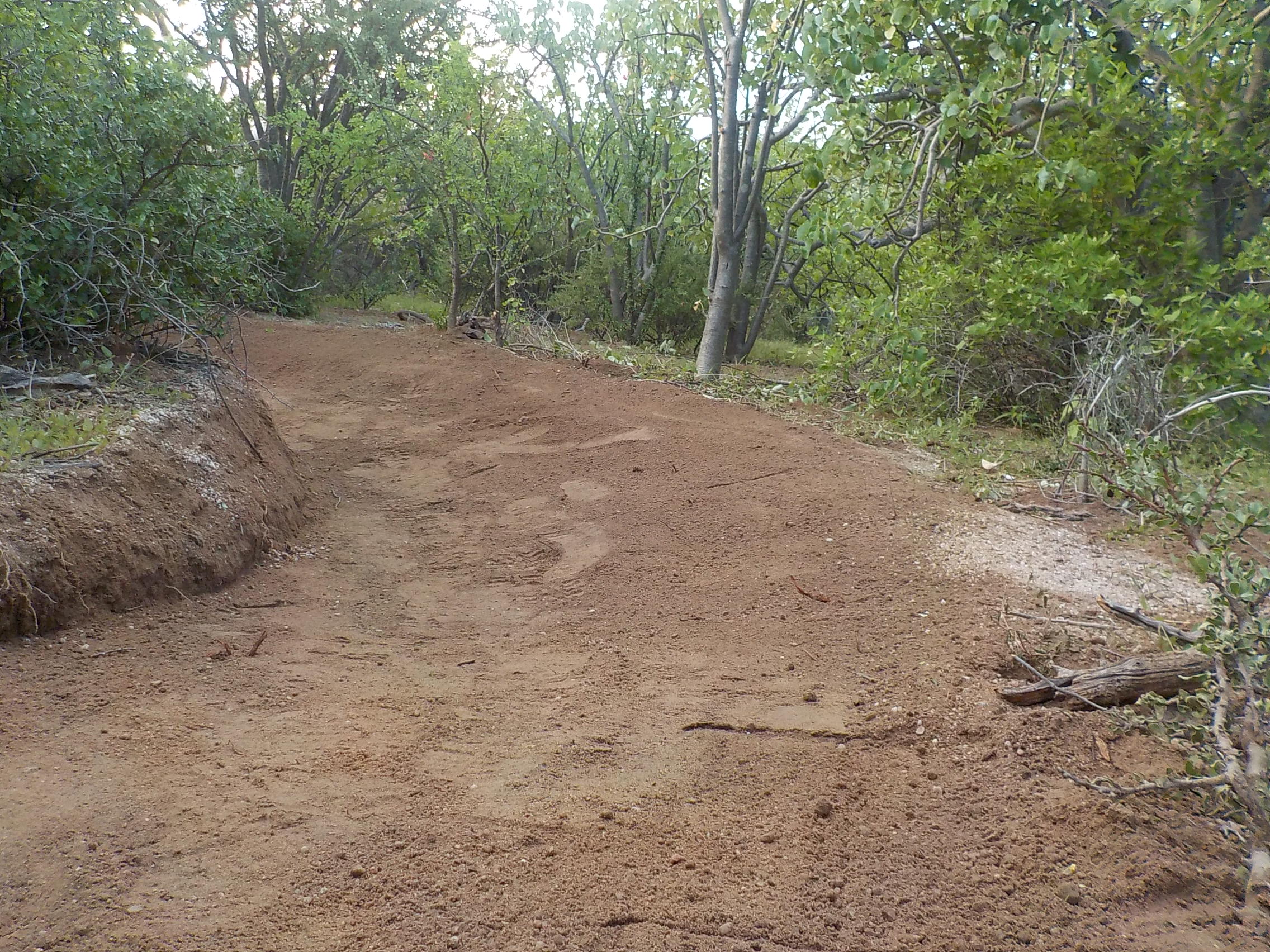 This beginners loop of 560 meters is perfect for kids! They can sense the feeling of the trails and adjust to the terrain conditions. Make endless loops on this figure 8 design to get the hang of mountain biking! It is located at the end of La Cruz and on the way to La Trinidad.
Trail Rating: Beginner
MORE INFORMATION COMING SOON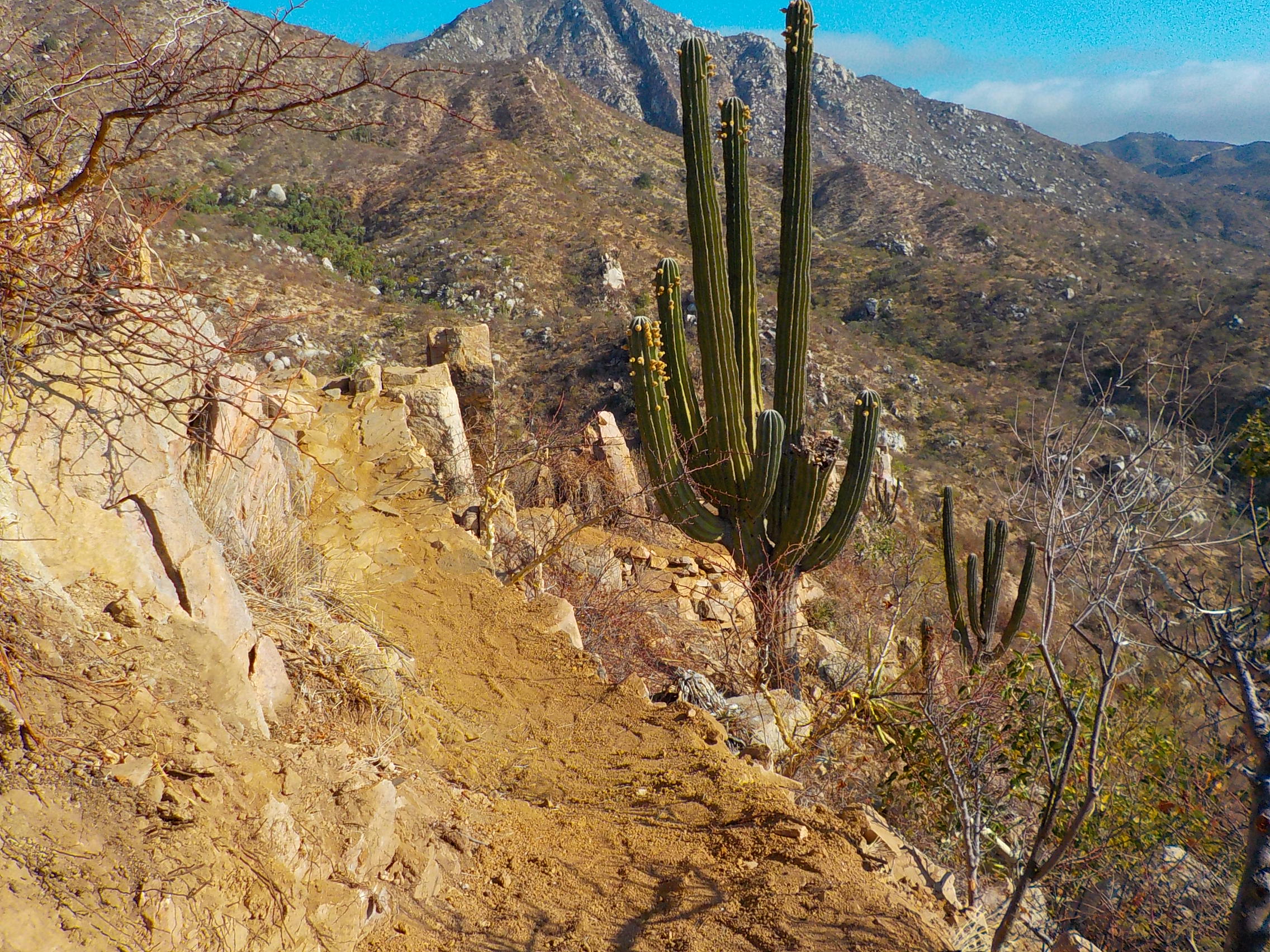 This intermediate to advanced 5.89 kilometer trails connects the El Salto trail and Dos Hermanos ranch with the Santa Rosa Trail taking you to Canoas. This trail offers incredible views of the mountains and the bay. It is a technical trail with punchy climbs, but not to worry, you will be rewarded with an incredible descent.
Trail Rating: Intermediate to Advanced
MORE INFORMATION COMING SOON
Hiking Trails at Rancho Cacachilas
This is a relatively easy trail of 9.9 kilometers with an overall elevation gain of about 300 meters. Starting at our most remote camping site at Los Pisos and ending at an intersection of trails called Cuchillos Pintados, this trail passes the Agua Blanca natural spring and affords beautiful views of the Sierra Cacachilas, the Sea of Cortez and Cerralvo Island.
Trail Rating: Beginner
This is a moderate 13 kilometer trail that takes approximately 4 to 5 hours to hike. Starting from Los Pisos, this trail takes you from 500 meters to sea level and ends at the exclusive Rancho Las Cruces Resort. Check out our Sea of Cortez Package Add-on to learn more about adding a stay at Rancho Las Cruces to your visit.
Trail Rating: Intermediate
This is an advanced hike of more than 21 kilometers that follows a historical trail that was carefully reconstructed by our crew in 2015 and 2016. Relied upon by the mining community of Cacachilas in the mid to late 1800s, this trail was used to transport goods by mule to La Paz when traveling by sea was not possible due to inclement weather.
Trail Rating: Advanced
This is a moderate to advanced 11.8 kilometer hike that climbs up to the ridge of the Sierra Cacachilas mountain range, more than 1000 meters above sea level. Starting near Rancho Chivato and ending at Canoas, hikers are treated with 360º panoramic views of sierra, sea and sky — a bird's-eye view of the Greater La Paz region.
Trail Rating: Intermediate to Advanced
This 11 kilometer trail is an extension of the Long Trail. This trail begins at Los Pisos and leads you down the mountain, through a canyon, offering views of different islands in the Sea of Cortez. The hike ends at the beach of Agua Caliente, named so because of its hot springs. This trail is a portion of the course for the Don Diablo trail race.
Trail Rating: Intermediate
MORE INFORMATION COMING SOON
Journey out of Los Pisos to find this 2.1 kilometer trail that guides you into the mountains. This trail leads to the ancient pictograph rock art paintings left by the Guaycura people. The Guayacura were hunter-gatherers that lived in these mountains prior to the arrival of the Spanish.
Trail Rating: Intermediate
MORE INFORMATION COMING SOON
Rancho Cacachilas Biking & Hiking Trail Map
The biking & hiking trails at Rancho Cacachilas are steeped in history and natural beauty and offer a variety of difficulty levels to choose from. For an overview of our current trail system, check out our Trail Systems Map.