Rancho Las Canoas is a lovely canyon day use area with nearby historical ore processing ruins. This site is used primarily as a starting, resting or ending point for hikes and bike trails.
Located in a palm-lined canyon beside Las Canoas arroyo, this is a good spot to stop, rest and, on some days, to enjoy a ranch barbecue. A short walk across the canyon brings you to interesting gold and silver processing ruins that were in operation until the early 20th century. Up the canyon, there is a spring from which the camp pipes its water and where there are mango trees that were planted long ago.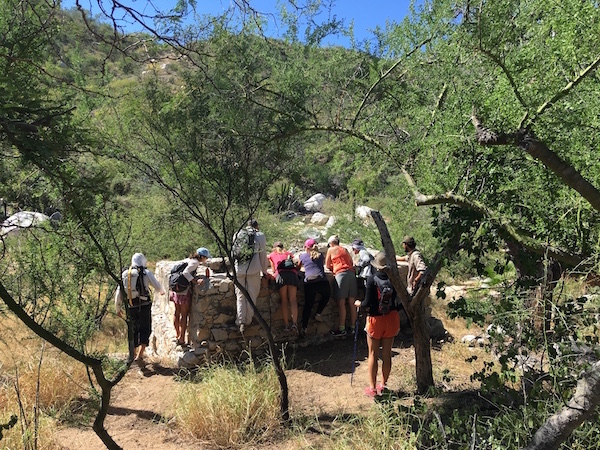 In restoring the small homestead that was left behind, we retained its simplicity and preserved its traditional architectural style. With the use of native construction materials such as palo de arco and palm, the buildings blend into the landscape of the canyon.
On the canyon floor, we have constructed many water retention structures to infiltrate the soil with water and enhance the local ecosystem. Across the arroyo in a small clearing, our mobile bee colony occasionally benefits from this oasis and in turn complements the natural environment by pollinating plants, crops and trees.
Facilities At A Glance
Simple Homestead
covered terrace

small fish pond
Outdoor Kitchen
grill, counters, sink

filtered water from a nearby spring
Bathrooms
dry toilets, bucket showers
Activities
hiking & biking

exploring nature & nearby ruins

barbecues, birdwatching, resting
Nearby Trails
History
Las Canoas was the homestead of Güero de las Canoas, a legendary rancher and miner of the La Paz region.
The photograph at left is provided by the Baja California Sur news blog site Noticalifornia. Visit their website to learn more and read entertaining stories (in Spanish) of this historical figure.